Aged Care Quality and Safety Commission
Content migration in tight timeframes
Image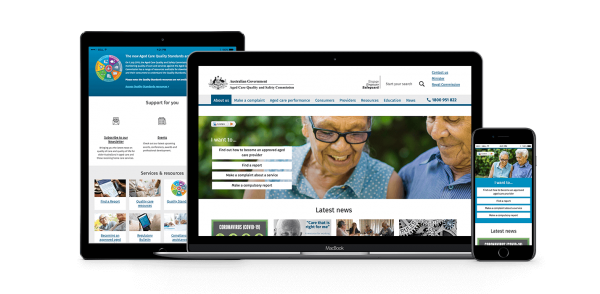 Client Benefits
Complex content migration was easily completed.
Out-of-the-box GovCMS functionality reduced the build time.
Fast turnaround despite tight timeframes.
This client was preparing to merge in 2018 and needed to launch a website for the newly formed Commission by merging the two separate sites onto one GovCMS SaaS site.
The challenge
The two sites were built on different platforms (Plone and IBM Lotus Notes) and had different IA and functionality to support. The project had a target completion date of 2 months. Coinciding with the launch of GovCMS8 SaaS, Technocrat had the opportunity to build and launch the first Drupal 8 SaaS site. With a tight timeframe, Technocrat developed the site theme based heavily on the GovCMS Starter Kit and using out-of-the-box GovCMS functionality reduced the build time.
The solution
The content migration was a complex component with tens of thousands of records and two different sources of content to be migrated and merged into one single IA. Technocrat developed an automated migration in weeks, and migrated all content into GovCMS, with enough time for the content teams to put the new menu together.
The results
The site was launched on January 1, 2019. Technocrat continues to work with the client to support and optimise the site.