The Auditor-General's Department of South Australia
Image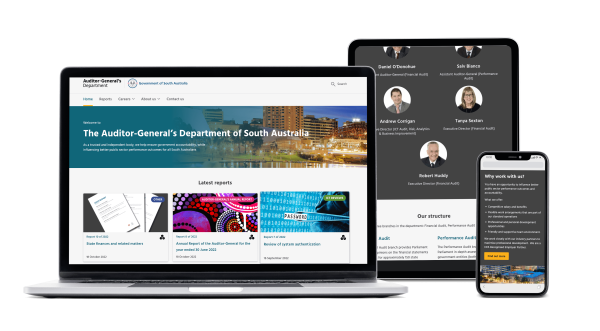 Technocrat was selected to design and build a new website for the Auditor-General's Department of South Australia. Their existing website platform was dated and required a developer to make updates. The Department wanted a new design as well as a modern CMS to facilitate distributed publishing.
We started by running workshops with the Department stakeholders, to discover what they wanted out of the website design and the functionality they required for the CMS. For the public-facing site, that was a clean, modern user interface to showcase their audit reports as well as provide information to prospective employees in order to aid recruitment. For the CMS, they needed an intuitive and simple content workflow that could be easily adopted by their small and non-technical team.
The design process also required an updated IA, developed in consultation with the Department team, and a revamp of all non-report content. This iterative process incorporated feedback from across the organisation.
During the development, we conducted several workshops with the content team to ensure the publishing functionality was intuitive and suited to their workflows.
Results
The Department's updated home page emphasises report content, automatically displaying the most recent reports and offering a search function
Benefits of working at the Department, as well as any open positions, are also highlighted on the home page
The reports section provides advanced search capabilities so users can easily find relevant reports
Flexible, custom page templates allow for variation between pages while ensuring consistency overall
The CMS is easy to use and multiple people are able to perform publishing tasks, allowing shared responsibilities and providing redundancy