Brisbane Airport
Simplifying Brisbane Airport's way-finding journey
Image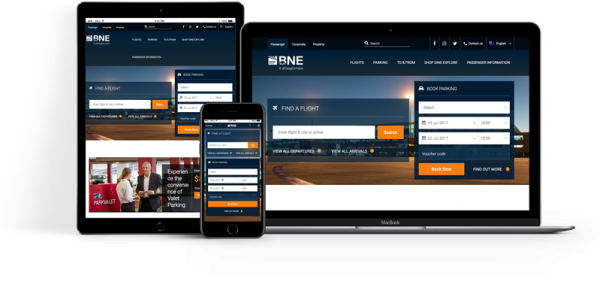 With a redesign plan in mind, Brisbane Airport required more from their website presence in conjunction with their inbound marketing efforts. The new Brisbane Airport website had to be representative of the high-quality service, which the organisation delivers. Not only did Brisbane Airport need a more modern user interface but also efficient forms that respond to the high parking and booking demand. Improvement to the website structure was essential for their future business success.
The Challenge
Brisbane Airport targets an array of users that come to their website to book airline tickets, check on flights and book car-park spaces and access passenger information. The interface expectations of these users are high. Each of these users values a high-quality web experience that will ensure that they can receive information from the site quickly and efficiently. Brisbane Airport needed to respond swiftly to this demand, as it was a key revenue generator for the organisation.
One of the challenges faced whilst creating the site, was re-using design patterns to keep the UX consistent and the user flows easier. It was also a priority to make content readily findable both on mobile and desktop. Technocrat ensured that designs would scale-down to mobile but the readability would be excellent using Drupal 8, the latest software for website development.
The Process
At the beginning of the project there were a number of workshops to analyse the efficiency of the current website. Brisbane Airport highlighted what they liked on other websites, completed a content audit, card sorting & tree testing with Technocrat.
Following the testing, Technocrat moved onto wire-framing the homepage to ensure that the content on the site is responding to consumer needs. Significant amounts of imagery were also placed onto the site that would attract users to visit the page more frequently. Technocrat worked hand-in-hand with Brisbane Airport to reverse-engineer content specifications to confirm the user experience, requirements and desired outcome for each element.
After designs were finalised the development challenge began. The design phase gives the visual flow to the website redesign, but equally important is how the back-end systems behind these designs relay data and support the business processes. Technocrat worked through each feature and developed functionality according to Brisbane Airport's business needs and goals. A clickable prototype was developed, to get the general structure right; templates were designed and lastly handed over to a development agency.
The Result
The new website showcases Brisbane Airport as a premier airport and has positioned them as a leader in their industry. Focusing on modern web design and sophisticated site functionality is bound to generate dramatic results for the organisation. The website was featured in the news and the articles can be seen here: