City of Casey
City of Casey drives digital transformation journey with Technocrat to support CALD communities in VIC
Technocrat partnered with the City of Casey local council to rapidly drive its digital transformation journey to better support its culturally and linguistically diverse communities (CALD) and local citizens during lockdown by implementing language translation services and text-to-speech functionality, as well as digitising council forms and launching online services for all its vital community support programs.
The City of Casey is one of Victoria's largest and fastest-growing municipalities with a rich demographic of over 150 different cultural backgrounds. Providing timely information in various languages has been key to the success of supporting residents during Victoria's uncertain times.
Image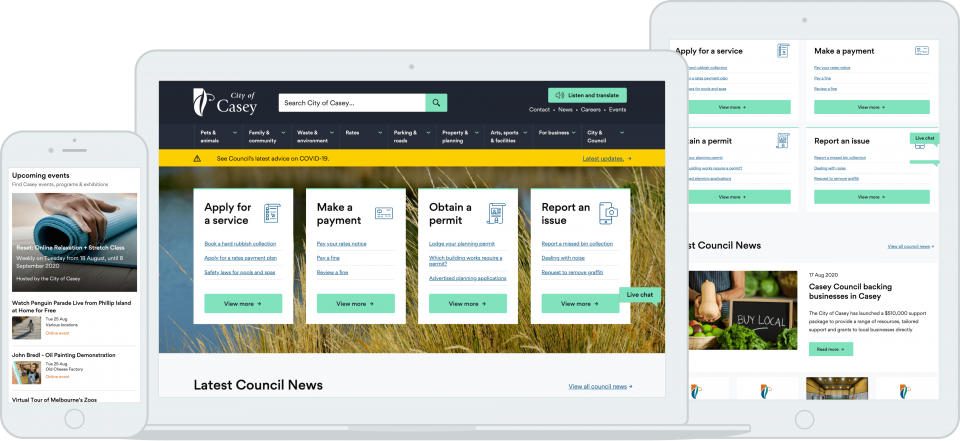 "Providing accessible information to all community members during the coronavirus (COVID-19) pandemic has been vital to ensure the safety of our community and prevent the spread of COVID-19," said City of Casey's Chair of Administrators Noelene Duff PSM.
City of Casey has been working with Technocrat for over 2 years as an extension of the in-house team at Council to deliver its digital projects and enhance public service tools for residents.
Digital projects implemented by Technocrat for City of Casey include user experience (UX), experience design (XD), web accessibility, inclusive design, visual design and 24-hour support services as required.
One of the most significant projects conducted by Technocrat was the consultation work and user testing of its 'listen and translate' function of the website, aimed to support City of Casey's vast demographics of citizens who speak different languages to ensure all community members have access to the latest COVID orders and information.
Importantly, the implementation of the browsealoud audible functionality was a key upgrade so residents can hear text read aloud from the City of Casey website as a community inclusion initiative.
"Technocrat prides itself with having the best technical experts and designers in the industry to offer our customers the highest level of skillsets for their team," states Technocrat Managing Director, Anand Vasan. "Our projects with City of Casey not only showcase industry best practice on how to deliver key milestones on digital transformation projects, it's also a true insight to how Australian Government can better support the public and CALD communities through innovative use of digital."