EnergyRating
Technocrat migrated the EnergyRating site from Drupal 7 to GovCMS8
Image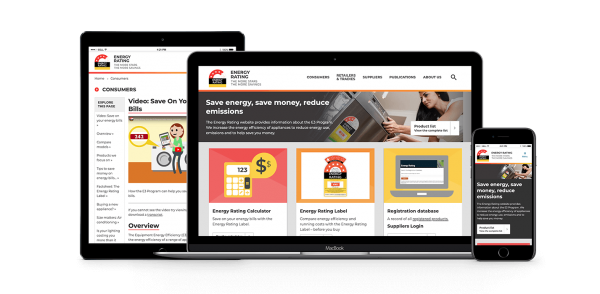 Technocrat worked with DoEE to move the EnergyRating website from a legacy Drupal 7 version with a number of issues onto GovCMS8 SaaS.
DoEE's main aim was to move the site off of a legacy hosting platform and onto SaaS, while also upgrading to Drupal 8. When the engagement began, DoEE were unsure whether it would be possible to move the EnergyRating site to SaaS, given the number of custom and contributed modules that were in use.
Technocrat conducted a detailed site assessment, and conducted a workshop in Canberra with the EnergyRating team to review the details we had compiled. We identified a number of content types and modules that were no longer required, simplifying the migration project and reducing the cost, and concluded that all necessary functionality could be developed in SaaS. From these findings, we produced a migration plan and costing for the project.
Technocrat rebuilt the site with largely the same IA, though DoEE took the opportunity to modify the menu structure and redesign the home page. We migrated all of the content and files for a seamless change over.
The new EnergyRating site went live in January 2020.