Get Ready Queensland
Building an engaging platform to help communities prepare for natural disasters
Image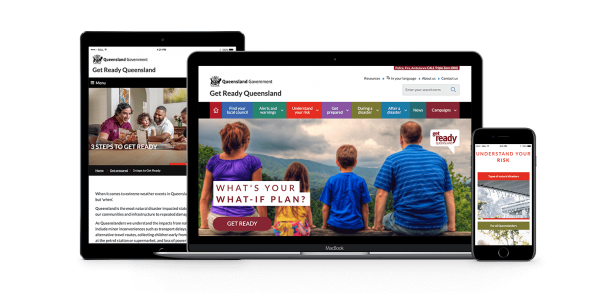 Client benefits
Complex and valuable features implemented.
An interactive and engaging experience for users.
Intuitive and flexible content system.
The challenge
Queensland's natural disaster recovery program is a year round initiative to help communities prepare for natural disasters. It covers all hazards and is the state's lead agency responsible for disaster recovery and resilience policy. These activities assist government, businesses and the wider community mitigate risks and prepare for disasters. The site needed to be redesigned and redeveloped on Drupal 8.
The solution
Throughout 2019, Technocrat worked with the client to redo the site's information architecture and design in order to create an interactive, engaging experience for visitors. The Drupal 8 CMS is intuitive and flexible to allow the team to continue to optimise the content for users. The redevelopment had complex features implemented. A downloadable/printable PDF option of household emergency and evacuation plan information, and the ability to select categories and find relevant information.
The results
The site was launched in September 2019 to align with the start of the disaster season. It helps Queenslanders prepare for emergencies and provides critical information for what to do after a disaster.