Manningham City Council
Intuitive, responsive platform on a tight timeframe
Image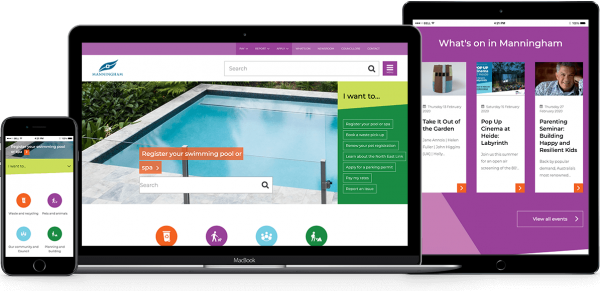 Client benefits
Project complete on time and budget despite tight timeframes.
Agile development methodology for rapid real-time changes.
Fortnightly sprints for functional development and communication.
Manningham City Council needed to consolidate flexibility and growth into their major web platform. Their established record of competence in digital and community development track record, formed a sound foundation for the project. Drupal was an ideal solution due to its low cost, powerful open source and functional elements, combined with Manningham's existing knowledge of its content editing features.
THE CHALLENGE
A robust Drupal CMS was required to be launched within 6 months. The internal website features needed to be intuitive for a wide range of technical abilities The external website needed to be clean, responsive, and intuitive for a wide range of residents. The key challenges for the project were timeframe and easy of use for end users.
THE SOLUTION
With a challenging delivery timeframe and lengthy requirements, the project was run according to the Agile development methodology. This was combined with the Jira-based project management system.
This approach was dependent on having a small number of project approvers and making decisions at pace. It allowed features to be expanded during development. Rapid changes were made in real time with high level communication. This brought the project much closer to desired functionality than a traditional Waterfall approach.
Two week sprints were held for functional development. At each sprint, a demo was presented of progress rather than waiting a long period to see a completed system. There was constant communication between the development team and the project owners. Despite some team members being located in other states, chat, video and phone communication was constant - which meant no time was lost in distance.
"I am very pleased with how the Web project has gone and that the process of redirecting the website's domain name server from the old website server to the new website server is running smoothly. Thank you to you and your team for your support and good work on this important project and for following my original guidelines" Phil Lee - Director of Shared Services, Manningham Council.
THE RESULTS
The project was a complete success. Despite the non-traditional approach of the Agile development methodology, more requirements were delivered and precisely matched expectations. Most importantly, the project was delivered on time and on budget. From a user perspective, feedback from local residents was overwhelmingly positive.
"The new Drupal Intranet is one of the best, most successful large-scale rollouts we have had in my 7 years here - thanks to Technocrat" Donna Russ - Web Communications, Manningham Council.